Specials
Fall is right around the corner!
Once again that tricky time between seasons has arrived--you know, when there's a crispy coolness in the air. Gone are the high-humidity, sun-drenched afternoons replaced with, dry wispy winds, causing cracked lips and transitional skin. Did you know that by plumping your lips with an injectable filler helps lock in moisture? Yes its true...toss the chapstick and get kissable, fuller, softer lips with filler.
One of the biggest concerns is blotchy dry skin blamed on fading tans! Exfoliation is key, Fall is the PERFECT time to schedule a laser treatment, which targets pigment to even out color and help with the reduction of fine lines.
Some may also suffer from clogged pores--the product of months past slathering on thick sunscreens and bronzers--for which we recommend a regular monthly facial that helps clear imperfections and banish blackheads.
The changing of seasons requires a shift in products as well, even for the most paired-down of routines. Switch to a creamy cleanser that doesn't foam up, so skin doesn't get stripped of its natural oils. Add a daily toner and incorporate a hardworking and hydrating product by SkinMedica, Neocutis or Obagi which fights sun damage, stimulates collagen, and infuses a hefty amount of antioxidants into the skin. Now is the time to reintroduce retinols back into your routine and soften newly acquired brown spots with botanical lighteners, like Lytera or Obagi Clear & any time is a good time for Growth Factors & Vitamin C. Whatever your Fall skincare need....WE CAN HELP!
Call to schedule your FREE consultation today!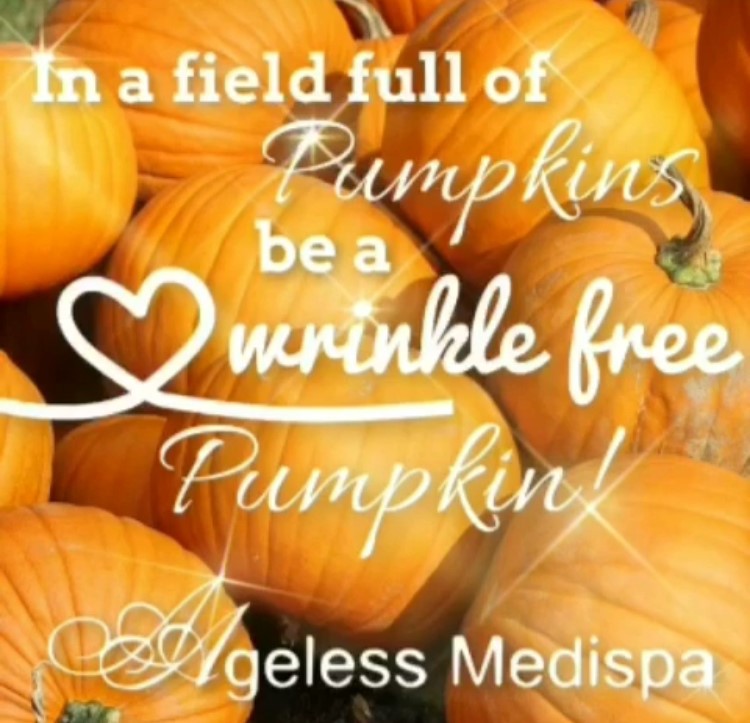 Mirror Mirror on the Wall
Who's the Prettiest Pumpkin of them ALL?
What an exciting time of year! Besides getting ready for Halloween, the leaves are falling & the air is crisp and fresh. Apple picking, fall festivals and pumpkin patches are all around us. It's safe to say that FALL is our FAVORITE time of the year!
First off, we would like to THANK everyone for making our 11th Annual Fall Open House a SUCCESS! We are truly humbled by the love & support of our community, patients and volunteers! We launched 3 NEW PROCEDURES, PRF (like PRP only BETTER), 3-IN-1 FACIAL & AGE-CREPE-LESS! Contact the office to schedule a FREE consultation to see if these NEW PROCEDURES are right for you!
It's also a time to be vigilant, as it's National Breast Cancer Awareness Month. Take time to educate yourself and take preventative measures to stay healthy and happy. Do your part in planning to detect the disease in its early stages and to encourage others to do the same.
Don't forget to adjust your skincare accordingly! Very much like your closet, your make-up and skincare products need to be rotated as the seasons change. You can make some easy changes in your routine to brighten up your appearance with our Jane Iredale Mineral Make-up and look your best and brightest by adding Obagi, Neocutis or Skin Medica products as you move into fall and the upcoming holiday season. Do a Fall clean-up of your skincare & make-up, continue to use sunscreen, moisturize, select a foundation with a little more coverage to help hide sun damage & embrace earth tones and ditch pastels!
You're going to love the tricks & treats we have for you in October...make sure to follow us on social media for weekly giveaways, flash sales & "Freaky" surprises coming your way...wink wink!
Now on to the SPECIALS!!!
$70 OFF Dysport
It's a great month to begin you WRINKLE FREE journey with our Dysport Challenge!!! Every patient that tries Dysport during the month of October will get $70 OFF an area!
ONLY $120
(Regular $150)
Get a smoother complexion and younger looking skin.
Results are seen after only one treatment!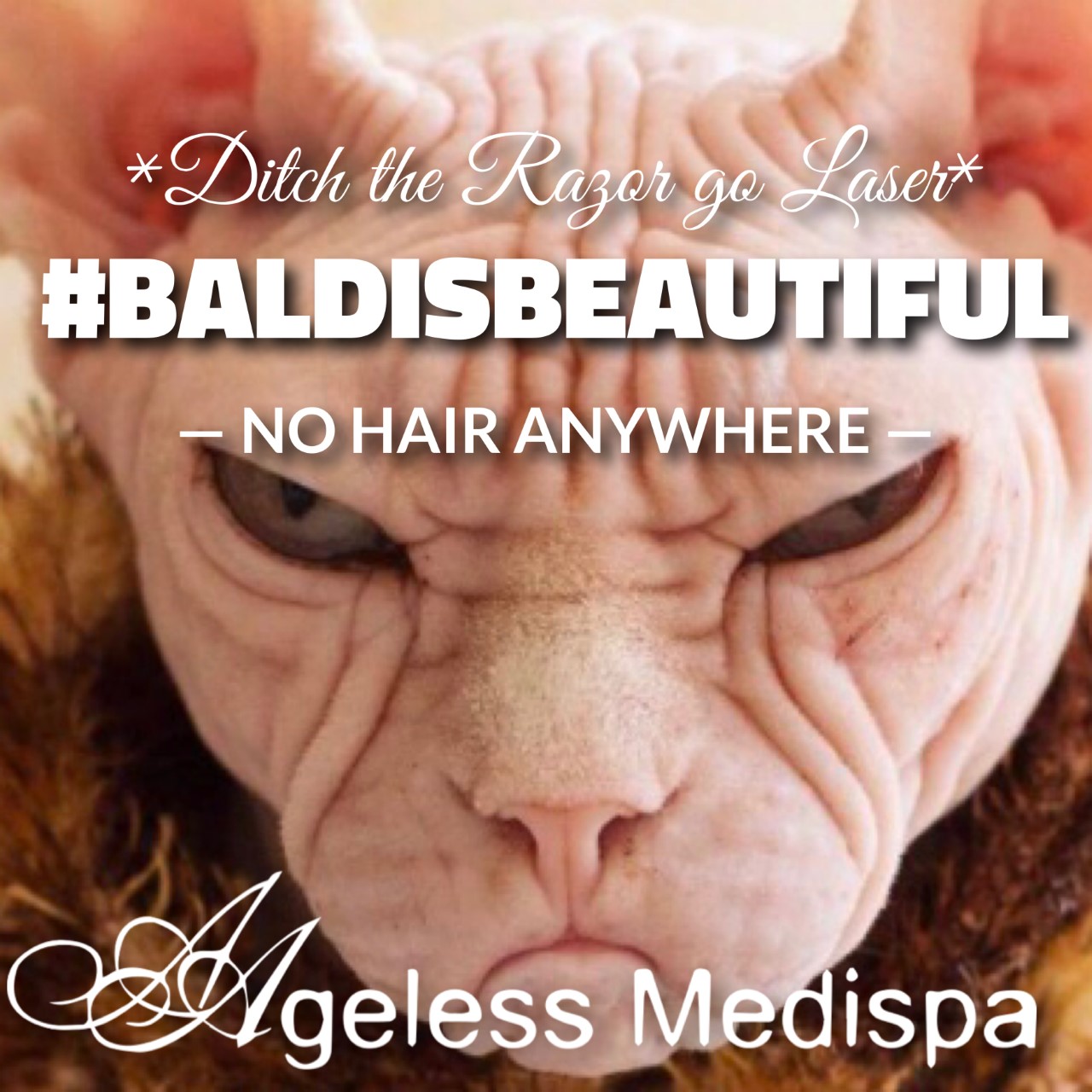 Buy a Package of 6 and get 2 Free!
We are SO EXCITED about our NEW NEW NEW Laser For Hair Removal!
VIRTUALLY PAIN FREE & LIGHTENING FAST!
(Add a Post Procedure Cooling Mask after any Laser Treatments for only $25!)
REFER A FRIEND AND SAVE
CONTACT US TO SCHEDULE A FREE VISIA SKIN ANALYSIS!!!
Ageless Aesthetics MediSpa
2815 Lexington Ave
Ashland, KY 41101
606-326-0166
agelessaesthetics12@msn.com
aamedispa.com
You asked and we listened.....Neocutis is BACK!
Stop by to pick up your:
Micro*Eyes
Minimizes the signs of aging specifically around the unique eye area such as crows feet, hollowness and crepiness.
Micro*Firm Neck & Decollete Rejuvenating Complex
Enhances tightening and elasticity creating a more youthful, sculpted profile.
To say our hearts are broken is an understatement. Vicki was not just the core of our business but also a "Mother" to all of us girls. She was our biggest critic and our biggest fan. She pushed us to reach our goals at work and cheered us on outside of the office. She not only helped grow our Ageless Family/Business, she was a rock in our personal lives. She has seen us thru weddings, divorces, births & deaths. She has attended our children's school functions, football games, basketball games, dance recitals, birthday parties, helped our kids move to college...the list goes on. We didn't just work together we shared "LIFE" in and out of the office. We are so thankful for the time we had with her & the knowledge she shared. She will FOREVER be in our hearts and FOREVER AN AGELESS GIRL!
Please continue to pray for Vicki's Family & Friends.
FOLLOW US
for weekly giveaways & flash sales!
Thank you for showing your confidence in us through the referral of your friends!
Refer friends and SAVE MONEY!